Our delicious signature cookies are made by hand and are perfect for any occasion… because seriously, is there an occasion that isn't made better with cookies? All cookies are heart-shaped, 2 inches in size, and sandwich style.
Caramel Toffee-Studded Shortbread
Our signature, heart-shaped shortbread cookie studded with toffee and filled with browned butter cream.
Dark Chocolate Shortbread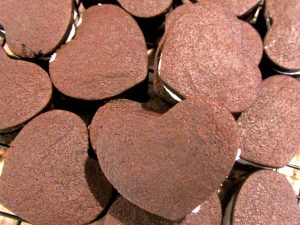 Our dark chocolate shortbread cookie is filled with vanilla cream and made with lots of love…. and more importantly, rich dark chocolate.
Vanilla Vanilla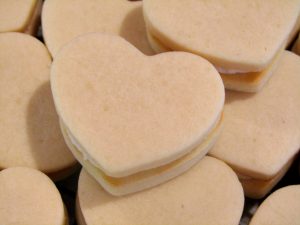 Our vanilla shortbread cookie with vanilla cream filling is anything but plain vanilla…. Ok, it is vanilla on vanilla, but it's really good.
Also available (photos coming soon…)
Chocolate shortbread with peanut butter filling
Our curry and cardamom shortbread cookie with vanilla cardamom filling, giving you a taste of India
Fall Seasonal Cookie Coming Soon!